This weekend is usually filled with the thrills and craziness of the 3-day novel contest. But the Weaklings, my writers group, are unable to participate. We did write posts about our experience yesterday which I will reblog through the weekend. Please enjoy Josh's tale in the following blog. Write hard 3 days writers. Don't give up.
Cheers,
Bob
Josh Mosey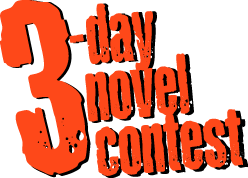 Normally, Labor Day Weekend brings about thoughts of family reunions, cookouts, and the beginning of school (not to mention the economic and social contributions of workers). But for the last few years, it has had very different associations for me. I think of long nights, early mornings, and typing until my fingers ache and my eyes dry out. You see, Labor Day Weekend is the official time-frame for the 3-Day Novel Contest.
It was shortly after the formation of the Weaklings, my writer's group, that one of our members told us about the 3-Day Novel Contest.
"You write a novel in three days," he said, as though that were something that could be done. Some of us had already been working on novels for three years at that point.
"What?" said the rest of us.
We looked up the information online. Sure enough. One novel, three days.
Of course…
View original post 712 more words